by Justine from The Typical Mom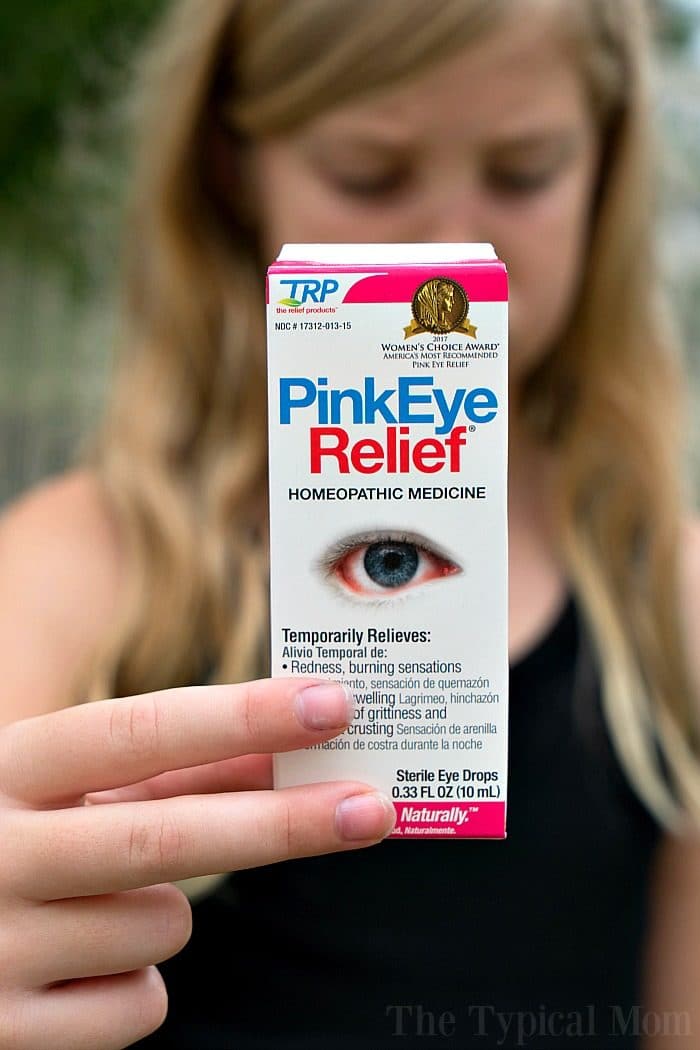 It's not fun, but pink eye in kids happens quite often if you have school age children especially. They love to hug and share just about everything…and sometimes pink eye comes along when you're least expecting it. It doesn't just happen to kids either, adults suffer too. I can tell you as a parent that illnesses and things like pink eye seem to appear right before bedtime. When everything is closed, doctors have left for the day, and you or your child are looking for relief. Here is a great way of relieving pink eye in kids and adults with homeopathic medicine found over the counter and online! Special thanks goes out to The Relief Products™ and Women's Choice Award for sponsoring this post so we could share this product with you.
I have three girls so we've had just about everything go thru our house. Being able to have a product in my drawer for "just in case moments" is just my style, especially something that relieves symptoms and is safe and gentle to use. It's great for ages 2 and up, and is the 2017 winner of the Women's Choice Award too!
Here's what PinkEye Relief® provides relief from:
Redness
Watering
Burning sensations
Swelling
Sensations of Grittiness
Overnight Crusting
All of that in one little tiny bottle! Just like traditional eye drops PinkEye Relief® easy to use with this squeezable bottle and like I said you can find it at major retailers such as:
Wal-Mart
Target
Rite-Aid
Kroger
Walgreens
Something you can throw into your cart the next time you're at one of these stores and keep it in your drawer for when you need it. Believe me when that time comes you'll be glad you had PinkEye Relief® at your fingertips to relieve the redness and discomfort that comes from having pink eye.  Thank goodness for easy parenting solutions like these.
If you're interested in other homeopathic therapies there are more in the The Relief Products™ family such as:
AgingEye Relief™
Allergy Eye Relief™
Blur Relief™
EarAche Relie™ – we could've used this last month at midnight when my daughter came down with one
Ring Relief™
RedEye Relief™
Stye Relief™
Appetite Relief™
Made from 100% natural active ingredients these relieve symptoms you and/or your children might have and there's no prescription needed.
Read more at https://temeculablogs.com/